Proprietor's Introduction (Video of 90 Seconds):
"Sompura Dot Com" is a leading Architectural Firm in Mumbai which specialises in designing Temples. We are noted for our contribution to the field of Architecture by the media and public alike. The specialty of our Architectural firm is that our proprietor, well known Architect Hitesh H Sompura belongs to the lineage of 12 generations of hereditary Temple Architects. He is also a Bachelor of Architecture from Mumbai University and therefore has the expertise of Traditional as well as Modern Architecture.He is the recipient of "Salute Mumbai 2005" award. His vision and multifaceted personality has created a valuable legacy in terms of his Buildings, Designs, Drawings, Poems, Documentary Film "Poetics of Architecture" and the popular book "You & Architecture".He introduced "Deconstructivism" movement in Temple Architecture in 2020. His work is appreciated and maintained by the leading personalities and institutions of the world. For more information please feel free to contact us via Phone or E-mail.
Our Director Architect Hitesh H Sompuraa's Profile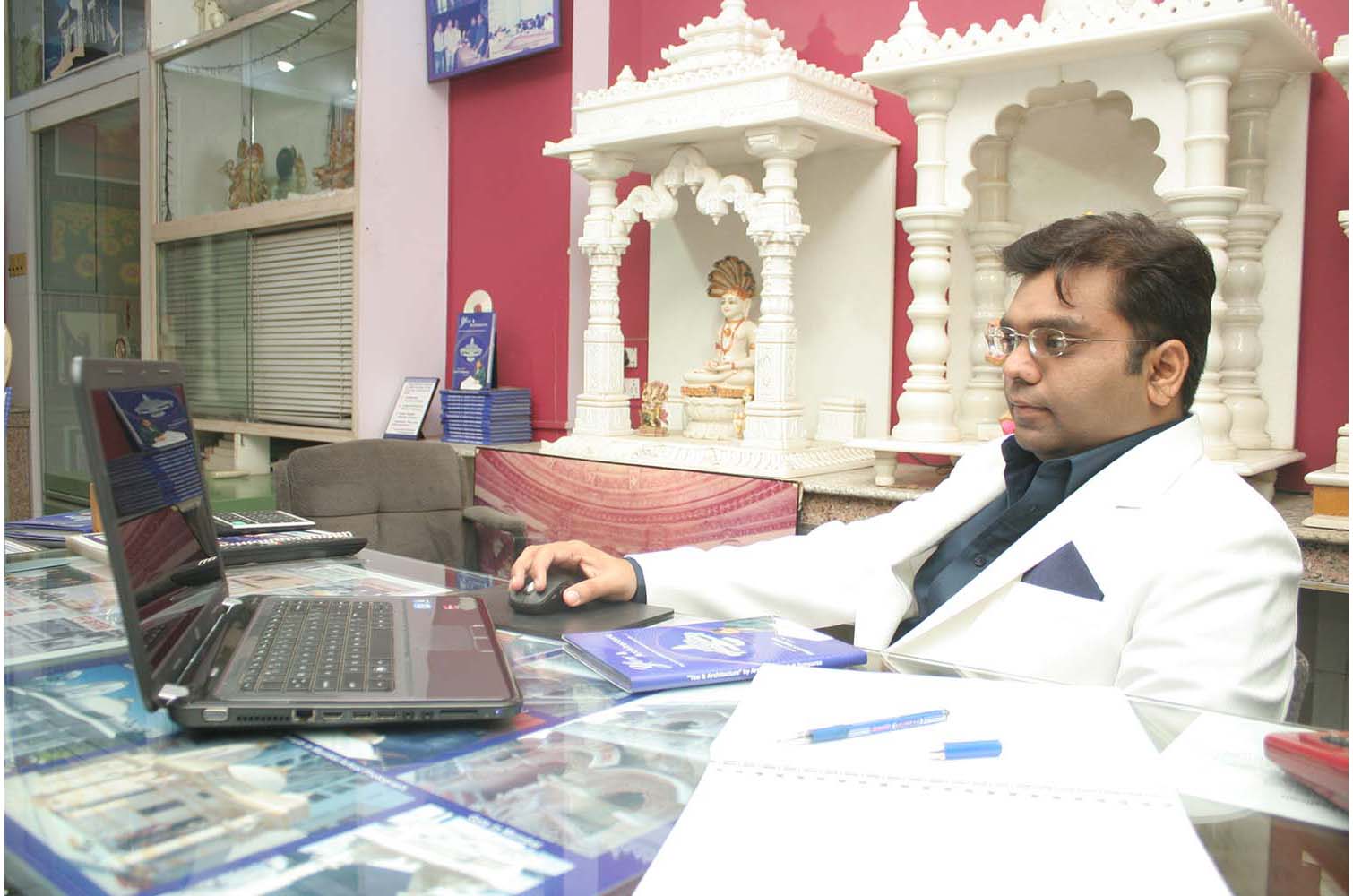 Architect Hitesh H Sompura at his office in Mumbai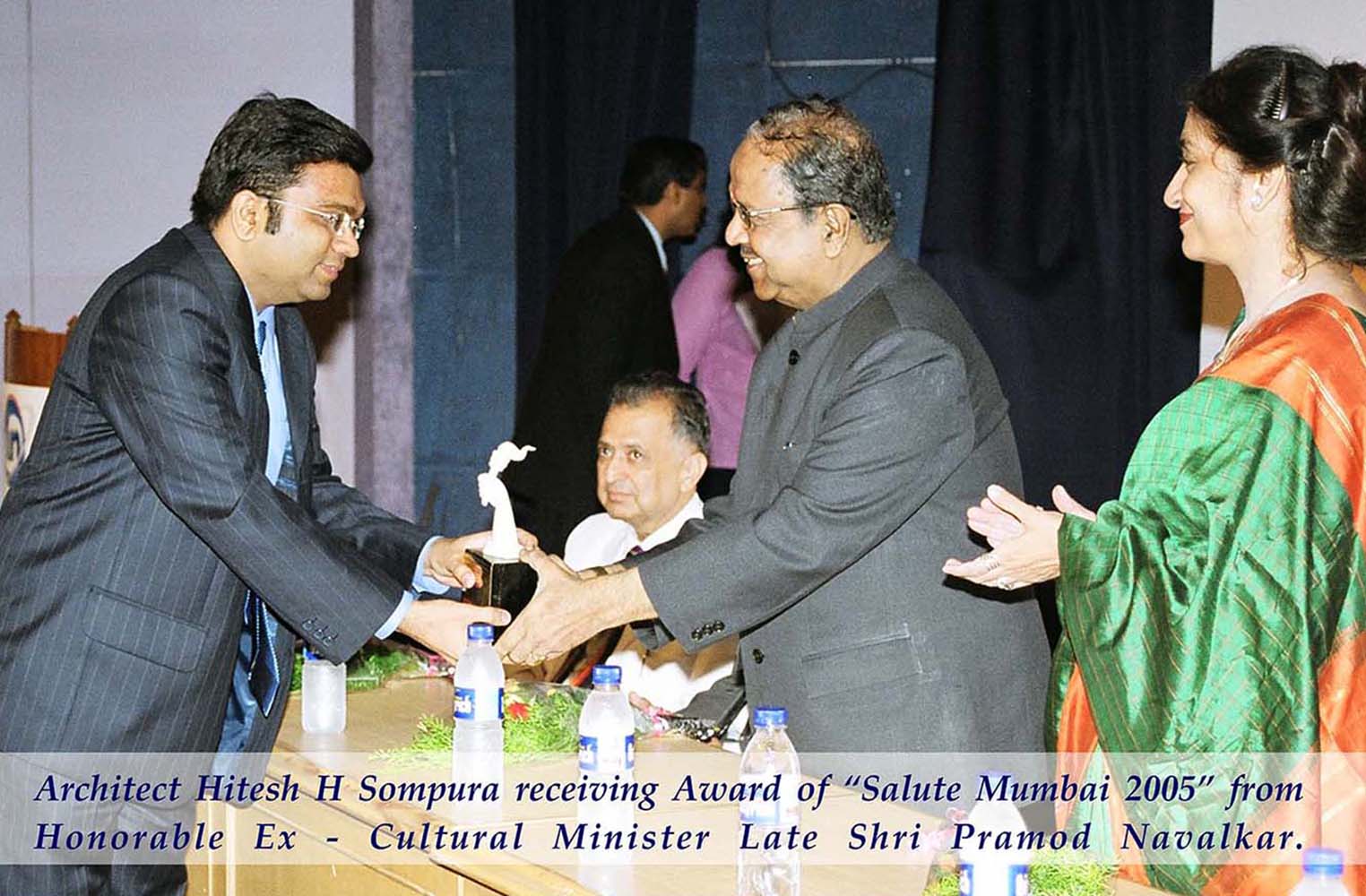 Receiving Award from late Shri Pramod Navalkar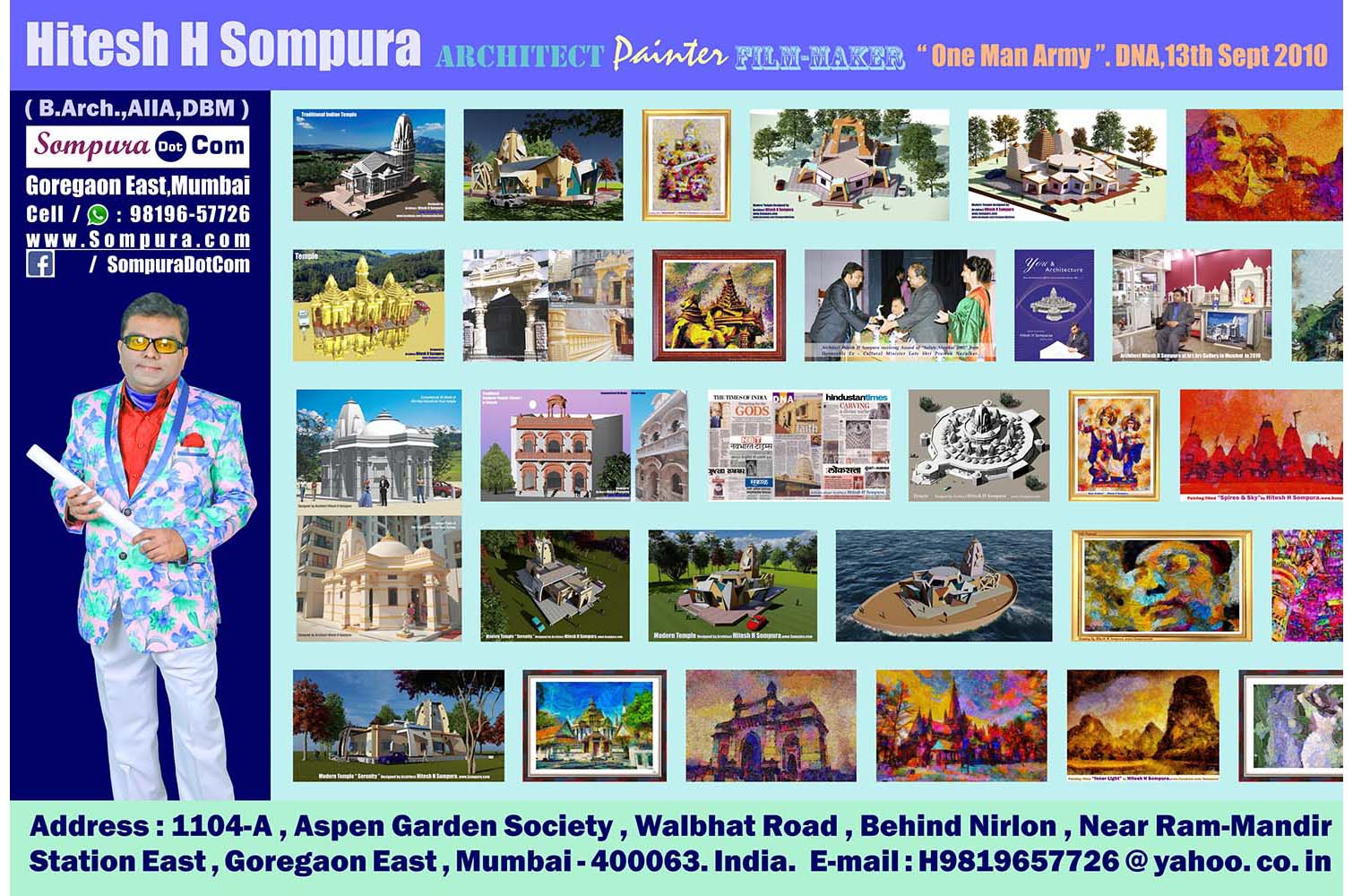 Giving speech at Rotary Club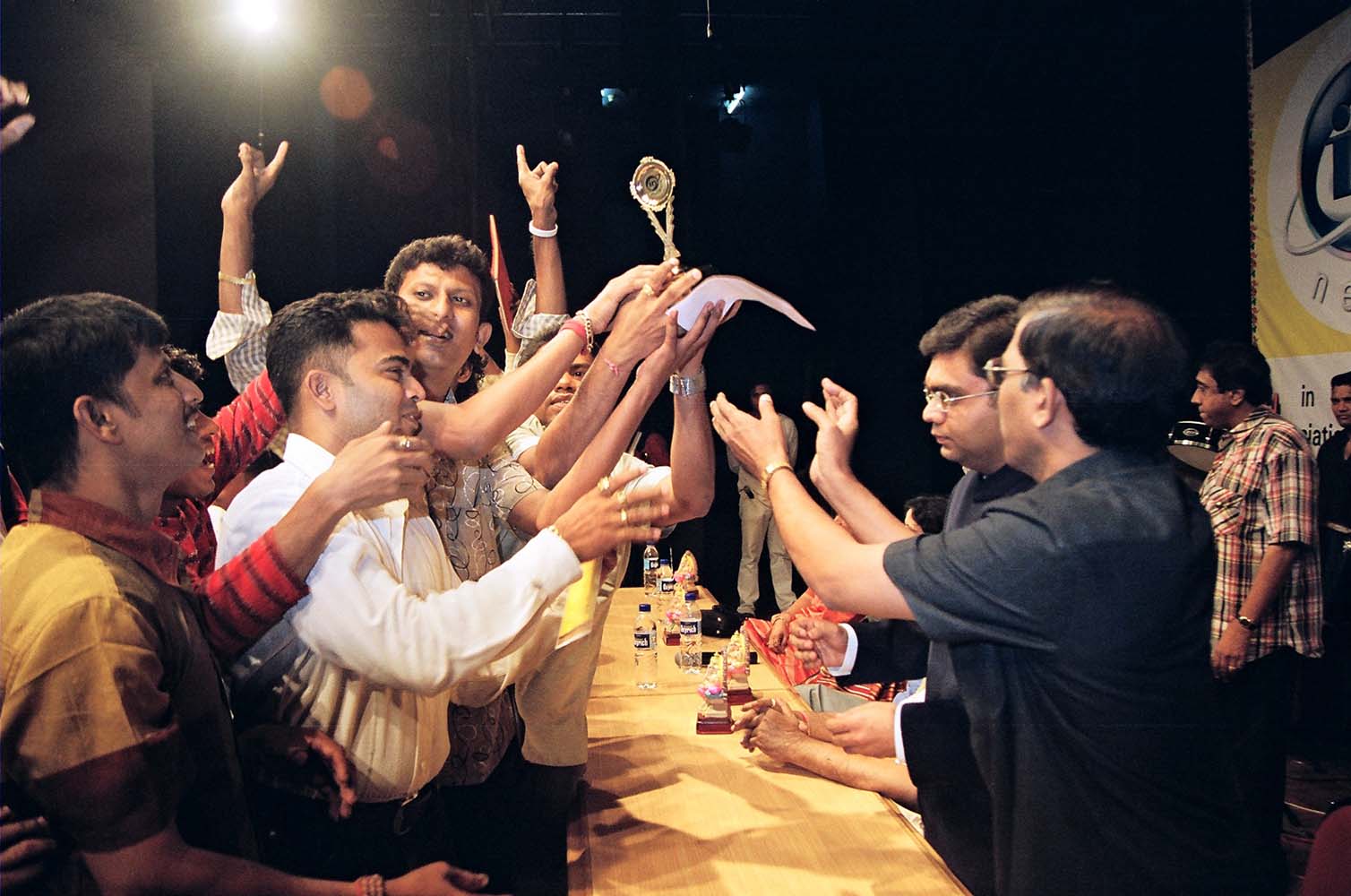 Giving prizes as"Guest of Honour"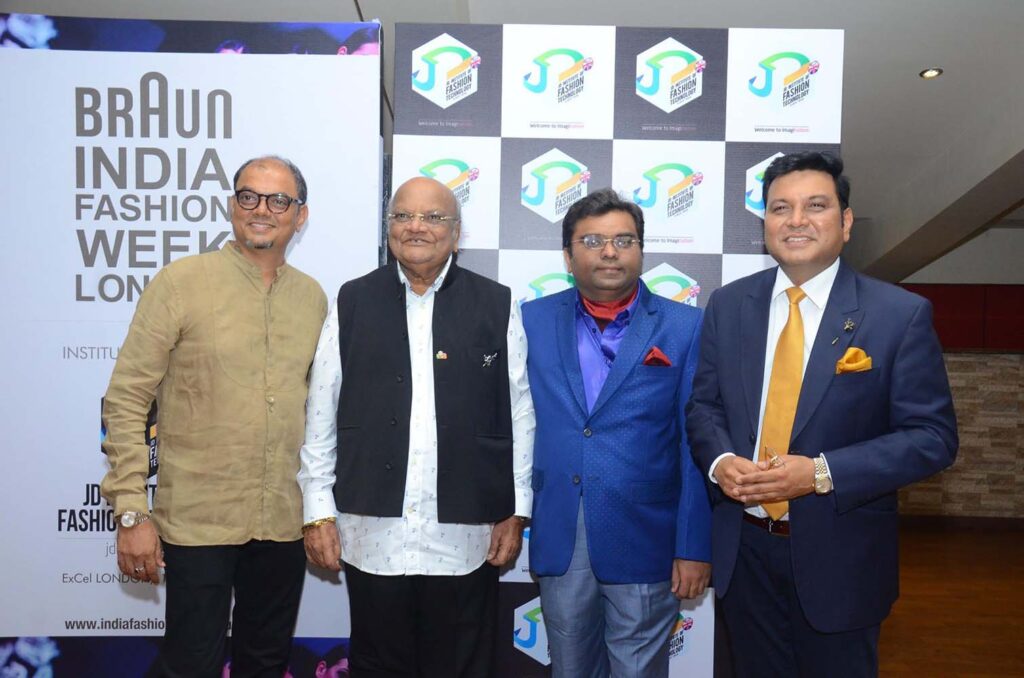 At JD Institute Awards 2016 as Guest of Honour
Proprietor's Biography in Hindi & English (10 minutes)
It's easy to accept or reject traditions.But combining traditions with modern ideas takes creativity,vision and the expertise of different eras. Well-known Architect Mr. Hitesh H Sompura , the recipient of "Salute Mumbai 2005" award with an array of distinct architectural projects, combines the best of various styles by means of technologies of different eras and presents them to the Twenty First Century. Hitesh is one of the few rare architects who have the expertise of both, the modern as well as traditional architecture as he is equipped with the degree of "Bachelor of Architecture" from Mumbai University, and his family has a grand history in the field of Traditional Temple Architecture.
Architect Hitesh H Sompura's Architectural Projects
Shri Mukteshwar Temple,Mumbai
Hitesh's family ie. the Sompuras are famous for their family tradition of designing temples according to "Vastu-Shastra" since past 12 generations.Their ancestors had designed and built great historic monuments like Somnath Temple, Ranakpur Temple, and Dilwara temples of Mount Abu hundreds of years ago.Within their family,the expertise of Temple Architecture is handed down orally from generation to generation.Therefore the Sompuras do not need the formal education or a degree of architecture or even a structural engineer to design and build temples.It is said that a Sompura has Temple Architecture flowing in his blood and his family members prepare him since childhood to be a Temple Architect.Therefore, even today, when a traditional stone temple is to be built anywhere in the world, a Sompura being a specialist in designing temples is preferred over an educated architect. Hitesh still maintains and refers a 300 year old manuscript called "Vastu Kaustubh" written by his forefather of eighth generation Late Shri Ganesh Sompura in the 17th century. Hitesh's grand father and father Late Mr.Hariprasad H Sompura were the leading temple architects of India who had designed and built many temples in India like Jain Temple in Thane,Shri Mahalaxmi Temple at Dahanu and Shri Vallabhnidhi Trust Haveli in Mumbai. Hitesh used to accompany them on site-visits to their temple projects since
childhood.Since the age of 6, as a hobby,he started making sketches of temples as per his grand-father's guidance. Hitesh belonging to the Sompura family, could also practice as the Temple Architect without the Bachelor's degree in Architecture. But Architecture to him, is not just making temples or buildings.But it is his way of life,a way of thinking.He is a thinker since childhood.And he wanted to learn the creative process of how to transform the ideas floating in his mind into an art form. He learnt this creative process while studying Architecture in Kamala Raheja college for 5 years. During college years, he would learn Modern Architecture in college and Traditional Temple Architecture at home from his family. In college, he planned Shopping complex,factory,hospital,school, museum,etc. with the modern style and techniques. In 1998 he completed his college studies and got the degree of "Bachelor of Architecture" from Mumbai University.Then he built Temples in Pune and Andhra Pradesh. In 1999,he traveled in the USA and observed their Architecture. He observed that unlike European and Egyptian style,Indian style was absent at the international level despite its unquestionable merit. During this tour in the USA,he set his ultimate goal to make the Traditional Indian Architecture globally popular and a part of Global Culture just like Yoga and Meditation. As a move towards his goal, he revolutionized the way the Traditional Temples were designed by using the modern computer technology in this traditional profession.He made some of the first computerised drawings,3D models and walkthroughs of temples on computer.He developed softwares which can do the complex calculations necessary for designing temples in seconds on computer which previously took hours to do manually. After his father's demise in 2005,he single handedly continued his family tradition of past 11 generations and designed beautiful temples. The Examples are, Shri Nija Sevashram Temple in Mumbai which is one of its kind as it is an abstract form of a traditional temple. Shri Madan Mohan Trust Haveli in Balasinor is a path-breaking example of how the traditional Indian architecture can be combined with modern style and materials. The very popular Shri Mukteshwar Temple in Mumbai was given a new look by Hitesh in the year 2006 . He also designs interiors and makes painitings. He is presently designing projects with the leading corporates & architects of India.Glimpses of his work can be seen on his web sites www.Sompura.com and www.Hitesh.org. He strongly believes that for a concept to be popular,it should reach the masses as well in addition to the class.Therefore he has presented his subject in various forms of art so that maximum people can enjoy it.About his subject, he has made short documentary films,written a book named "You & Architecture" and some poetries.These short films,book and poetries present his subject in a simple, short and interesting way. He runs an Art-Gallery which is popular as "Sompura Art Home" in Vile Parle-East in Mumbai, where he displays his work namely drawings,models, stone-furniture, sculptures,paintings and his documentary films. He
lectures in Universities, writes articles in magazines and hosts exhibitions. He has been featured in many newspapers and TV channels.Universities across the globe seek his guidance regarding Indian Temple Architecture. For his special contribution in architecture, he was awarded "Salute Mumbai 2005" award by the Honourable ex-cultural minister Late Shri Pramod Navalkar in May 2005.